About
Husband, (grand)father, diaconal candidate, theology student, catechist, ham radio op, and backyard naturalist.
This blog is a place to organize my occasional thoughts around those things. I don't get into work-related stuff here; this is very much on purpose. Suffice to say that I've spent close to 30 years in IT; these days I focus more on people than tech.
Places you can find me:
@aa4jq@mastodon.radio on Mastodon
instagram.com/jamesquinby
You will also find me hanging around on Metafilter. After a very lengthy hiatus, I've returned to Facebook as well.
Currently Reading: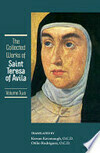 The Collected Works of St. Teresa of Avila Vol 2
by Saint Teresa (of Avila)

Ven Espíritu Creador: Meditaciones sobre el Veni Creator Prólogo de José Cardenal Ratzinger (Mística y Místicos) (Spanish Edition)
by Raniero Cantalamesa